My setup 20061126 update
posted on 12:00 PM on Sunday 26 November 2006
My wife got me a spanking new rev b macbook pro. So happy. So the dell laptop which I got in early 2006 as a temporary solution has been sold off. Same goes for the powermac since I do not really use it much and the new macbook pro could basically do everything that it did. Amazing machine, so happy to be back on the mac. Really miss the powerbook days. Speaking of the old powerbook, it is now sitting in the living room hooked up to the big tv in the living room. The image below shows the current setup.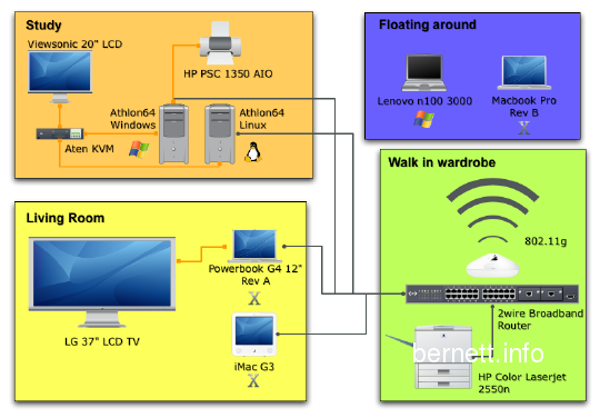 So there are now 6 machines left. There is the ever faithful Athlon64 3200 with 1GB of RAM and 1.16 TB of disk space which serves as my server. It serves files for the rest of the network as well as handling most of my computes. I use it to update my local copies of parsed biological data on a nightly basis. It is also my monotone server where I store all my codes. 1GB of RAM is not really that much nowadays but it is quite enough current and maybe I will put in another GB or two when the prices are a bit lower. I swapped the antec power supply for it and boy is this machine quiet. Initially I had wanted to put this machine in the wardrobe to prevent noise pollution but it seems that it is not required.
Its evil twin is the other Athlon64 2800 with 1.5Gb of RAM and 120GB of disk space. It is running windows for the odds and ends but mainly for some games. They have the same casing but it is really noisy compared to the other one. I think it is mainly the power supply or the graphics card. Initially it was running with 512MB of RAM but it was terrible, a lot of times, it was needing much more than that. So another 1GB went in and it is now much better. Talk about RAM hungry. Both of them are connected to the KVM and through it, the Viewsonic LCD.
The new macbook is also connected when I am at home and that is really great, 1680x1050 on the big screen and 1440x900 on the laptop. Talk about screen real estate.
The HP PSC 1350 is connected to the windows machine for scanning and printing of photos. This printer is really rarely used since we had the laserjet. But we cannot do without a scanner so it stays. Currently looking out for a model that can scan to network. That would be sweet since I do not have to tie it to the windows machine. But this type of all in one (AIO) are pretty expensive. Maybe in the next year or two, wireless models will be out.
The laserjet has just gotten a new set of toner which hopefully will last another 2 or more years. The initial set lasted almost two years. Great printer being networked.
My wife has finally gotten a decent laptop, a Lenovo n100 3000. It is really a basic machine but it serves her really well. It has a builtin camera and we had quite a lot of fun doing video skype with it and my new macbook pro.
Talking about the macbook pro, it is really great machine. Big screen, lots of RAM and disk space, fast processors and to top it off Mac OS X. Really love the Apple laptops.
The old powerbook is still up and running. It has been transformed into sort of a media center. I have it hooked up to the LCD TV and we now watch movies, surf the net and run programs off it in the living room. I got a set of Microsoft wireless keyboard and mouse and it works great. The volume buttons work and that is really cool. It is really nice to use the big screen when we are with Ernest. Trying to find a cheap and good webcam to use with the powerbook right now for skype.
We are still in the process of looking for a suitable table for Ernest's iMac. The selection is complicated by the fact that my wife wants to use the same table for her work so it has to serve two roles. Ikea here I come.
As for ISP, I changed from StarHub to Singnet. I guess the service is quite comparable. The positive side is that my wife got her Lenovo via the sign-up. One thing good is the number of services that they allow. This allowed me to use dynamic DNS to access my server at home as well as the monotone server. So far I am quite satisfied with the service.
computer