Setup updates
posted on 07:37 PM on Sunday 25 November 2018
It has been a while since I last updated on my setup.
The Windows machine has been upgraded with more RAM (24GB) and the GPU has been changed to a NVIDIA GTX 1080TI which is really very fast. The casing has been changed to a Silverstone RL06 which is quite nice with a tempered glass window. The CPU cooler was changed to a Noctua NH-U12S which is very quiet and very cool. I was very impressed with the Noctua fans, so much so that I got a whole bunch of Noctua NF-S12A fans to replace the stock case fans. After all that change, this is one really quiet machine even under load. After all these upgrades, I gave the machine to Esther who will probably need a new machine when she goes to secondary school.
The following is a picture of the machine minus the new Noctua case fans.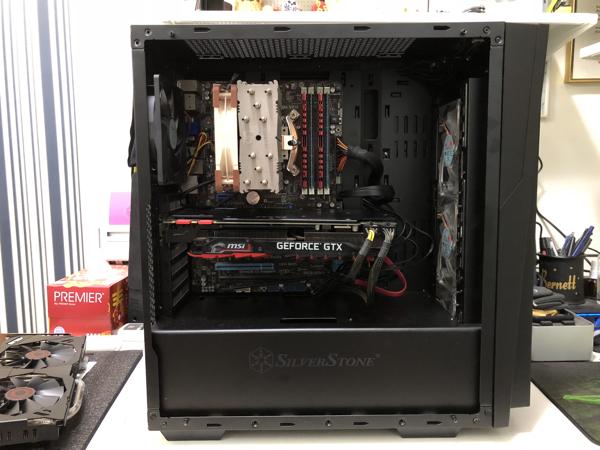 After the upgrade to the new GTX 1080TI, 2K gaming is a breeze. The performance is probably restricted by the very old i5-3570K (the 9th generation is out so this is about 6 generations old which is ancient for CPUs) but it still works well enough.
With my Windows machine with Esther now, I decided to build a new Windows machine. It has been many years since I built a Windows machine. For the casing I got a Fractal Design Define S where a ASUS ROG Maximus XI Hero mainboard sits. It was a tough job getting the main board in as it has an integrated backplate which did not fit well. But eventually with lots of forcing, it went in. On it is a Intel i9-9900K which is one hell of a CPU, 8 cores and 16 threads with a turbo boost of 5GHz (3.6GHz base). The CPU gets really hot so it is cooled using a Corsair H100i AIO liquid cooler. Even then the peak temperature is near 100 degrees Celsius. There are 32GB of DDR4 memory and a Samsung 970 EVO 1TB NVME SSD for memory and storage. This is powered by a Corsair HX750. GPU is a NVIDIA RTX 2080TI which is so powerful. Since I only do 2K, my frame rate is more than 100. So all in all, this is one heck of a machine. Hope it lasted as long as the old one which was about 6 years.
The brother labeler is dead so I got an Epson LabelWorks LW-1000P which is really nice. The only downside to this is that the labels are not very common.
Pauline's Brother laser printer is also having problems, so we swap that to a HP Color LaserJet Pro MFP M281fdw (which is a mouthful). It is quite nice, very fast printing.
The Denon amplifier is also dead is rather disappointing since it was only about 3 years only. So we got a Sonos Beam to replace that and it sounds almost as good. The drawback is that it is not a true 5.1 system and it does not serve as a HDMI hub so other devices would need to be connected to the TV direct. However being a Sonos means that we now have music in the living room effortlessly. All the bedrooms now have Sonos PLAY:1 so everyone gets their own little music box.
The main networking pieces have been swapped with equipment from Ubiquiti which I had heard good things about. After using them for a while, I must say that they are really good. The firmware is constantly being updated so I know that the company is serious about their commitment to the equipment. Performance is great and configuration is wonderful as they can be connected to a cloud account for administration. With 3 access points placed around the house, coverage is never an issue.
In fact I liked it so much that I changed the camera system over to Ubiquiti ones. I use 3 UniFi Video Camera G3 Dome to cover all the common area of the house. The software is great and like the management software connects to a cloud account which lets me view the videos remotely. The videos are triggered by motion and they work very consistently. The video quality is also very good. So the D-Link cameras and the Synology NAS are not retired.
The following shows a concise view of the home setup as it stands right now.
computer